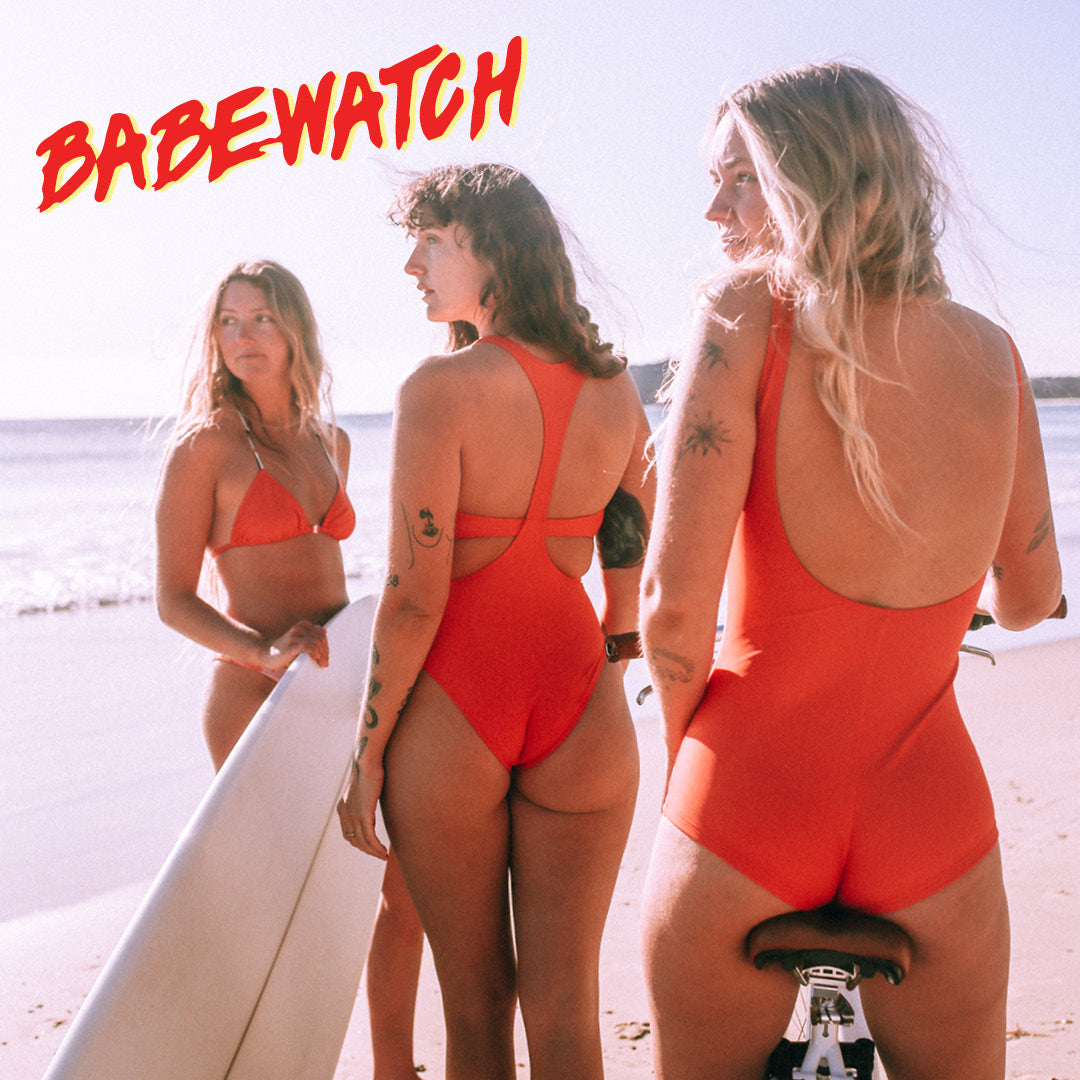 Wetsuits & Wine ~ Babewatch Launch
Atmosea is bringing back Wetsuits and Wine for the new range release - Babewatch.
Join us Thursday the 14th of December from 4pm - 7.30pm at @wildthingsgallery
Atmosea will provide beers from @stoneandwood wine from @naturalorderwine, delicious alcohol free buzz from @drinkdayse and some tasty nibbles.
DJ @mollyoniel on the records.
Short clip of the Atmosea crew by @clementinebourke
Atmosea locals discount on the night - 15% off the new range.

Ceasefire and the end of apartheid in Palestine
We stand firmly for a ceasefire and the end of apartheid in Palestine. We stand with the people of Gaza and their right to occupy their lands.
We have all been struggling and questioning the state of the world lately and we want to use our platform to promote good.
We are a family run business and know that our community want to give back and support those in need always.
This is a small step in giving, and we urge our entire Atmosea community to show up all of the ways that matter right now.
Contact your local members of parliament, petition and protest whenever you can. Stand in solidarity with oppressed people everywhere and promote peace always.
All ticket sales will be donated to the 
UN World Food Programme
 to help those suffering in Gaza.
If you buy a ticket you will be in the draw of a Atmosea Wetsuit, Swimsuit, Terry Towelling Shorts, and Artist Tee, and Fin a gift pack worth over $1000.
Get your tickets here!
1 ticket $10 
6 tickets $50 (get one ticket for free) 
~ APRES SURF WEAR ~
A RAINBOW of terry towelling shorts & pants!
WE ARE EMPOWERED WOMEN EMPOWERING OTHER WOMEN AS THESE SUITS CONNECT US TOWARDS A MORE PROGRESSIVE AND ALL-ENCOMPASSING SURFING COMMUNITY
~WETSUITS~
~Endless Summer~
~Groms Collection~
Our favorite pants & shorts are now for kids! Ready to rock n roll in the terry towelling pants & shorts ... Let's keep this short and sweet – these pants are the bomb. Inspired by the groove of the 70s- they're made of 100% cotton, with a sporty stripe on the side, an elasticated waist with a drawstring, and a back pocket. We think these are perfect for any time of the day or night and are so excited to be sharing them with you! 
Sign up to our newsletter
Receive special offers and first look at new products.
Blog
Introducing our latest artist collaboration with Easty Beasty. "I just love the radical differences in surfing. You have this vast spectrumy mix of rat bagginess, gladiatorial charging, and incredible peace, harmony, softness and elegance. I loved surfing's relationship with the ocean, the natural, and the raw." Read more...

2023 was a big year for our Queen Ro as she embarked on a major surfing journey alongside the WSL (World Surf League) intertwining the nomadic lifestyle of living on the road and balancing her everyday life, work, surf and social...

The Springsuit in Fool's Gold with Elise Trigger in the Philippines captured by photographer Evie Johnstone.  A stunning series of photographs and surfing with our golden girl and ambassador Elise.   A captivating series of image of golden girl, Elise, radiating golden...